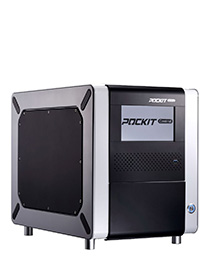 POCKIT Central
Fully Automated Vet PCR system
The First & Only Fully Automated Veterinary PCR system
The golden window in diagnosis of many important infectious diseases should be within 24 hours.
Conventional PCR procedure takes overnight to provide test result which delays diagnosis and treatment. But now, a revolutionary technology POCKIT Central allows vets to accomplish the entire procedure in just 85 minutes.
POCKIT Central is currently the only fully automated veterinary PCR system available in the market that benefits laboratories, research centers, veterinary university, and veterinary clinics for:
- Companion animal
- Livestock
- Aquaculture
- Food
- Biothreat
POCKIT Central is based on iiPCR technologies for nucleic acid amplification. Isothermal heating is applied to a single point of capillary tube in a heat-insulated environment to induce a natural thermal convection to drive PCR with the temperature gradient generated along the tube.
Unlike conventional PCR requiring several cycles of heating and cooling, iiPCR technologies reduce the reaction time significantly. Its sensitivity and specificity have been scientifically proven to be equivalent to the real-time PCR method.
So far, GeneReach has obtained 6 patents on iiPCR technologies and published more than 40 SCI journal papers. The iiPCR-based POCKIT products have been used worldwide to grow steadily to meet the diverse point of need testing demands across the world.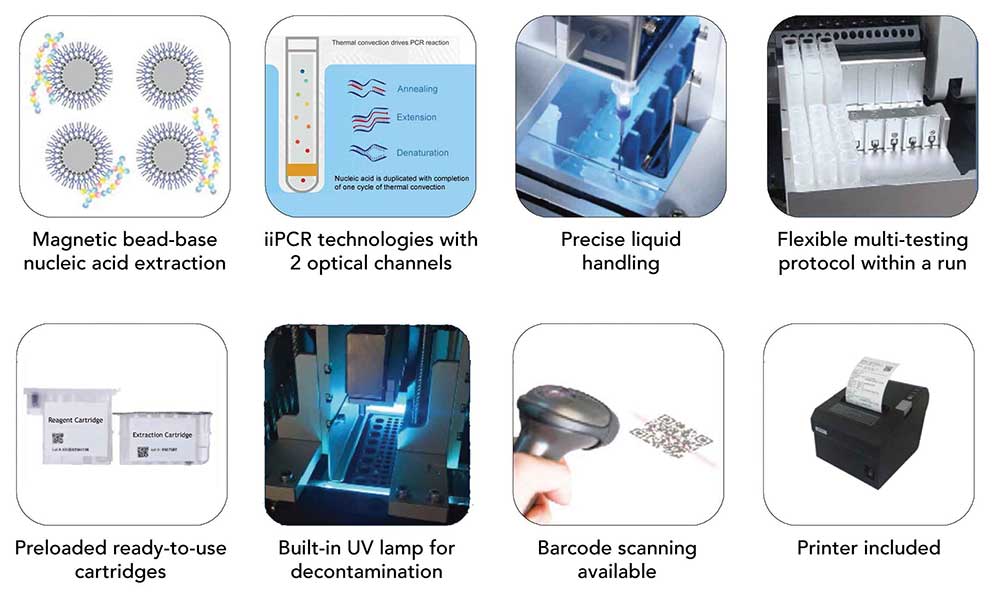 | | |
| --- | --- |
| Dimensions (W x D x H)) | 31 x 48 x 40 cm |
| Weight | Approx. 21 kg |
| Throughput | 1 – 8 samples per run |
| Reaction time | 85 minutes |
| Detection wavelength | 520 nm & 550 nm |
| Monitor | LCD touch control panel |
| Data storage | 8 GB of internal storage |
| Power supply | 100 – 120/ 200 – 240 V AC, 50/60 Hz, 2A |
| USB port | 3 type-A ports (1 front , 2 rear) |
* For more information about POCKIT Central Click Here