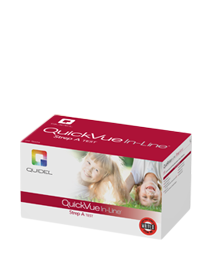 quidel
Strep A
Respiratory
The QuickVue+ Strep A Test detects group A streptococcal antigen directly from throat swabs and beta-hemolytic colonies on blood agar plates.
Group A Streptococcus is the most significant cause of pharyngitis. Early diagnosis and treatment of Group A Streptococcal pharyngitis has been shown to reduce the severity of symptoms and serious complications such as rheumatic fever and glomerulonephritis. Conventional culture methods require 24 to 48 hours for results.
FEATURES & BENEFITS
Feature
Benefit
Results in 5-10 minutes
Test and treat in the same office visit
Two reagents
Fewer steps, easy to perform, requires minimal training
Two-color plus/minus result
Popular endpoint for easy to read and interpret strep test results
Pictorial Procedure Card
Clear and simple illustrations to guide the rapid strep A test procedure
All components included in kit
Ready to use, no need for additional equipment
Internal controls included
Provides verification of test strip functional integrity, increasing confidence in results
External controls included
Facilitates internal laboratory quality control
Room temperature storage
No refrigerator space needed. No need to wait for reagents to warm up.
Rapid strep A tests can be run immediately as needed.
PRODUCT SPECIFICATIONS
| | |
| --- | --- |
| Sample type | Throat swab |
| Time to results | 5-10 minutes |
| Kit storage conditions | Room temperature (15°C to 30°C/59°F to 86°F) |
| Internal Controls | Positive and negative |
| External Controls | Positive and negative included in the kit |
| Overall accuracy* | 98% agreement to SBA culture |
| Shelf life | 18 months from date of manufacture |
| CLIA complexity | Moderate |
*Refer to Package Insert for additional performance claims.
* For more information about QuickVue+ Strep A Test Click Here