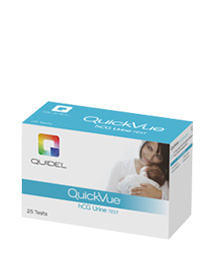 quidel
QuickVue hCG Urine Test
Pregnancy
The QuickVue hCG Urine Test is a sensitive immunoassay that detects human chorionic gonadotropin (hCG) in urine for the early detection of pregnancy.
INTENDED USE
The QuickVue hCG Urine Test is a one-step immunoassay intended for the qualitative detection of human Chorionic Gonadotropin (hCG) in urine for the early detection of pregnancy. The test is intended for use by healthcare professionals.
FEATURES & BENEFITS
Feature
Benefit
One-step procedure
Easy to use, fewer procedural errors
Results in 3 minutes
Fast time to results
Two-color result
Easy to read and interpret
High sensitivity
Ability to detect low hCG levels as early as 2-3 days before expected menses
Self-contained test Cassette
Clean, easy to use and dispose of
Pictorial Procedure Card
Clear and simple illustrations to guide the hCG test procedure
All components included in kit
Ready to use, no need for additional equipment
External controls available
Facilitates internal laboratory quality control
Room temperature storage
No refrigerator space needed. No need to wait for reagents to warm up.
Rapid pregnancy urine tests. Tests can be run immediately as needed.
PRODUCT SPECIFICATIONS
| | |
| --- | --- |
| Sample type | Serum, urine |
| Sample size | 3 drops |
| Time to results | 3 minutes |
| Kit storage conditions | Room temperature (15°C to 30°C/59°F to 86°F) |
| Internal Controls | Included |
| External Controls | Available separately |
| Sensitivity* | 25 mIU/mL |
| Accuracy* | >99% |
| Shelf life | 18 months from date of manufacture |
| CLIA complexity | Waived for urine, moderate for serum |
*Refer to Package Insert for additional performance claims.
* For more information about QuickVue hCG Urine Test Click Here