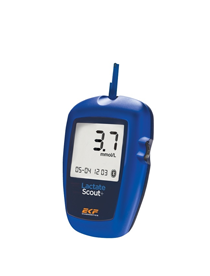 EKF Diagnostics
Lactate Scout+
Lactate analyzer
EKF Lactate Scout+ is used by medical and sports clinicians around the world for the easy and reliable measurement of lactate.
Lactate Scout+ is a hand-held lactate analyzer that requires just 0.2 µl of capillary blood and returns results in 10 seconds. Up to 250 results can be stored on the device which also features stopwatch and count down timers for performance measurement.
An integrated step test function and Bluetooth connectivity makes Lactate Scout+ the most advanced lactate meter in the market.
Lactate Scout+ has been designed to be used 'in the field' as a training companion for individuals or sports teams. Because lactate is an important measurement for many different types of athlete the Lactate Scout+ operates in temperatures from 5-45 centigrade and in up to 85% humidity.
The operation of Lactate Scout+ is intuitive using scroll wheel navigation and a simple menu structure. A high quality backlit screen ensures excellent readability under changing light conditions and viewing angles.
Two 'AAA' batteries are all that is required to perform over 1,000 tests, and with pre-calibrated test strips and automated self-test the Lactate Scout is the easiest and most reliable portable lactate analyzer available.
Lactate measurement, date, time, mode, temperature and memory ID on a single display
Step by step instructions on display
Single and step-test measurements
Pre-calibrated sensors
Integrated Bluetooth® connectivity
Stores up to 250 results
CE marked
Methodology
Single use microfluidic sensors
Principle
Enzymatic-amperometric
Sample Type
Capillary whole blood
Sample size
0.2 ul
Measuring range A1c
0.5 – 25.0 mmol/L
Imprecision CV A1c
±3% (min. SD: ±0.2 mmol/L) for Hct range 35-50%
±4% (min. SD: ±0.3 mmol/L) for extended Hct range
Calibration
Pre-calibrated sensors
Lactate Scout+ product demonstration
* For more information about Lactate Scout+ Click Here