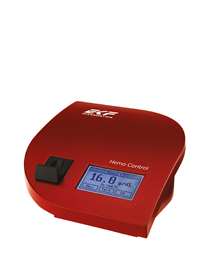 EKF Diagnostics
Hemo Control
Hemoglobin analyzer
Simple, accurate and reliable hemoglobin and hematocrit test
Hemo Control is easy to use and delivers results with a CV of <2% for hemoglobin and hematocrit from 25 seconds from one small sample.
The new Hemo Control analyser can now be upgraded with Data Management (DM) functions through purchasing an 'add pack'. This is ideal for customers who are:
Planning future connection of POC devices to LIS but have not yet decided
Connection to LIS postponed for budget reasons, option to split costs
Facing increasing demands for connectivity and want to keep options open.
The new analyser also has an improved Bi-directional interface using the new LIS2-A2 public standard protocol. This allows direct connection to third party software without the need for Hemo Connect software
The EKF Hemo Control hemoglobin analyser uses the innovative NXT microcuvette technology to deliver a quick and easy sampling procedure that also minimises waste.
NXT microcuvettes have been designed with a large opening to collect the blood sample, meaning that users can hold the cuvette at almost any angle to gather the blood sample from the patient. The NXT microcuvette also features a slot at the rear of the sample chamber that allows trapped air to escape.
Trapped air in a blood sample will deliver inaccurate results, so by getting it right first time the Hemo Control NXT microcuvette keeps costs and patient discomfort to a minimum. Once a sample has been taken the Hemo Control's built-in 'soft-load' microcuvette holder ensures that blood does not splash out when it is inserted into the analyser. This minimises the risk of contaminating the analyser for future use.
Easy to use
User friendly features minimises training time
Step by step instructions on screen
Backlit touch screen
User selectable language menu
Soft-load cuvette holder minimizes risk of contamination
Practical and portable
Hemoglobin and hematocrit results from one sample available after 25–60 seconds (depending on the concentration)
Venous, arterial or capillary blood
Sample volume only 8 or 10 μl depending on cuvette type
n•x•t shape microcuvette minimises air bubbles
Compact in size and weighing just 700g
No maintenance required. Auto self-test
Integrated rechargeable battery (100 hours)
Accurate and reliable
Operating ambient temperature 15°C – 40°C
Photometric azide methemoglobin method
Measuring range: 0–25.6 g/dL; 0–15.9 mmol/L
Imprecision: CV <2 %
Linearity: 0–20 g/dL: ±0.3 g/dL; >20 g/dL: ±0.7 g/dL
Calibrated to NCCLS reference method
Control cuvette included data management functions
Bidirectional interface using LIS2-A2 communication standard
Stores 4,000 patient results
Connect to PC via USB connector cable
Basic device upgradeable with data management (DM) functions: Barcode identification of patients, operators, cuvette LOT and control materials, quality control lockout function, additionally stores 500QC results
Hemo Control Manager: integrated Bluetooth technology, DM functions preinstalled at delivery
Hemo Control hemoglobin analyzer demonstration
* For more information about EKF Hemo Control Click Here