Actim 1ngeni System – Digital confidence in pregnancy monitoring
The Actim 1ngeni instrument is the heart of the Actim 1ngeni system, which makes testing and documentation worry-free and reliable both in the laboratory and at the point of care.
Actim 1ngeni instrument
Automatically analyses, displays and saves results of Actim PROM 1ngeni tests and Actim Partus 1ngeni tests
Delivers confident results including patient ID, user ID, date and time, and reagent data
Each test has a QR code that contains test and lot-specific information (lot number & expiration date)
Easy to use, with a touch screen interface available in 15 languages
Compact – takes up little space
Actim 1ngeni is… simply ingenious!
Optimal diagnosis
Test results are clear and comprehensive
Offers digital accuracy to result interpretation
Improved liability and quality of testing
Test results are connected to patient identification and to test identification
All the results are traceable and searchable
The instrument automatically makes sure that the performed test is valid
Actim 1ngeni has room for 999 results, which can be saved to USB stick and printed via USB or Ethernet
Maximized convenience
Small
No need for timing – doctors and midwives can devote more time to their patients
Easy to use, with a touch screen interface available with 15 different languages
The instrument will adjust to your workflow – flexible system for specific needs
Three quality monitoring functionalities available for the system
Self test is run automatically during switch on. Checks appropriate reader status.
Instrument check (optional) is run with printed strips provided with the instrument. Confirms the instrument's ability to interpret results.
Assay quality control with external liquid controls is available for Actim 1ingeni instrument. This quality control with liquid controls is not a requirement for running tests.
Actim 1ngeni – Test procedure with 6 easy steps
1. Extract sample by placing the swab in the Specimen Extraction Solution and swirling around vigorously for 10-15 seconds.
2. Select [TEST]
3. & 4. Select [Patient test] and enter patient ID
5. Activate and insert test Dip the yellow area of the dipstick into the Specimen Extraction Solution and hold it there until the liquid front reaches the result area. Place the dipstick to the cartridge and insert the cartridge to the instrument. Test time starts automatically.
6. Results shown clearly
PROM positive: Membranes are ruptured
PROM negative: No membrane rupture
Partus positive: Elevated risk of preterm delivery
Partus negative: Preterm delivery highly unlikely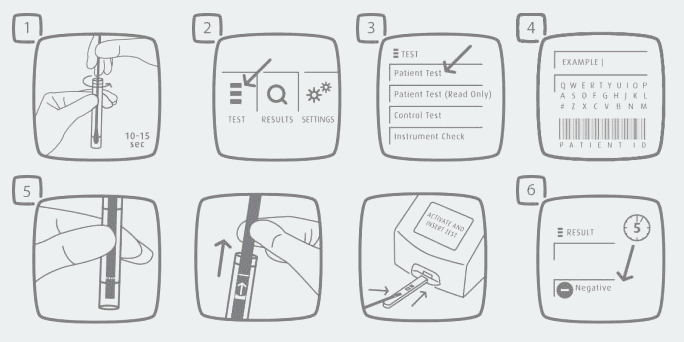 * For more information about Actim 1ngeni Click Here